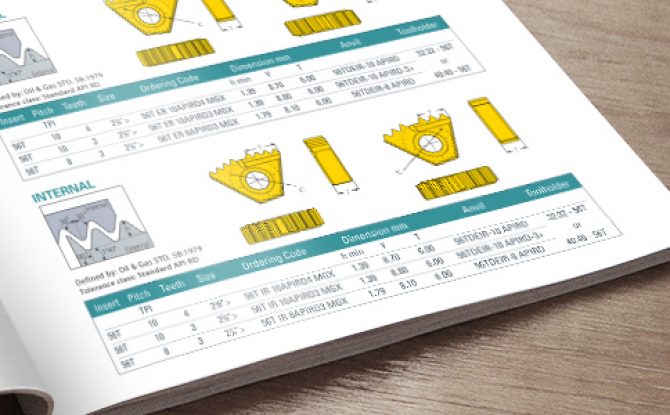 New T Plus System Catalogue Added
The new Posithread 56T range of carbide inserts is specifically aimed at the oil and gas industries which cut API threads to specification 5B. This covers the 5TPI 3/4" and 1" T.P.F Buttress casing forms and the 8 and 10 round casing thread forms. The 56T inserts are targeted at super-fast machining of high-accuracy threads in components from 23/8" and above.
The innovative design of these multitooth inserts feature special geometry and advanced edge preparation techniques which ensures high-accuracy production of profiles at maximum productivity with optimal chip flow.
Our comprehensive range of 56T inserts are double-sided and are used for internal and external machining. The inserts also have chip protection for the second edge cutting edge when used in 56T holders which features a trapezium pocket for very precise and stable location. This in turn leads to extended tool life and reduced cycle times on the machines due to the number off passes required to cut the thread forms between two to five passes depending on the profile.
Posithread can provide customers with recommendations on appropriate cutting data for unalloyed, low alloy and high alloy steels of up to 350 Brinell HB and the number of passes required.
We manufacture and supply quality tooling for all your threading applications as well as any specials you might need.